Books

This is a novel of war and adventure, courage and tragedy. When the Japanese invade the island of Guam in December 1941, two boys of different races and different cultures escape by sailing away at night in a small boat.
But can they learn to trust and respect each other and master the secrets of the ancient navigators? Their survival depends on it. Read more...

Book I of The Eye of the Stallion fantasy series, this complex adventure follows the coming-of-age of a headstrong and defiant young woman.
When Sonoria learns that she and the people of the Stratus Valley are mere slaves bound forever to distant masters, she rebels. She joins a band of young barbarians and escapes, riding her wild stallion Spiritus out of theValley. But her denial of her eternal love for the dark and dangerous Dag-gar threatens to tear apart the very fabric of Time.
News
Budding Writers
Douglas Arvidson is passionate about helping budding writers learn the craft. He has prepared a program on writing designed for students. Learn More...
He is available to come to your school to talk to students about the writing process. More...
Ancient Skill, Dying Art: The Secrets of the Ancient Pacific Navigators
In conjunction with his new novel Brothers of the Fire Star Douglas Arvidson has developed a dynamic Powerpoint/slide presentation that brings to life the methods of navigation used for thousands of years by Pacific islanders. This presentation is appropriate for schools, yacht/sailing clubs, nautical book stores, boat shows, Scouting organizations, colleges, and middle/high school science, history, and social studies classes. To book email: darvid46@yahoo.com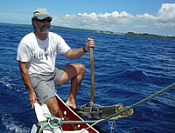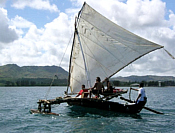 Doug, a true lover of the water and adventure, once lived on a forty-one foot sailboat with his wife and two cats.
To read more about Douglas Arvidson's life and his many interests and adventures, click here.