Books by Douglas Arvidson
The Eye of the Stallion Fantasy Series
"….Arvidson has crafted a wonderful tale for any age….where the forces unleashed are primal and the science suggestive. The reader is urged by compelling and deft plot twists….and sense of precision story telling. Readers familiar with the EarthSea Trilogy by Ursula le Guin will find familiar moral territory…."
V. Santos, Former features Editor/News Editor
Pacific Daily News (a Gannett Newspaper)
Author Douglas Arvidson discusses his writings.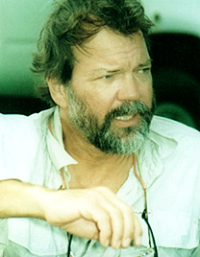 I wrote these books in the belly of a sailboat on a tropical island in the western Pacific. I lived on the boat for ten years and during that time, we sailed among many of the islands of Micronesia. It was all a great adventure—a good place to be and a good place to write.

This fantasy series is about adventure, too; the adventures of a young woman and a young man, about their eternal and dangerous love, and about eternal and dangerous time. Both love and time share vagaries and moods, good and bad. They share swirling whirlpools, and the ability to stretch, to shrink, and to fold in upon themselves. Both love and time carry us, helpless, along complex and often painful paths toward a future that is never certain. For all lovers are caught up in Time's mysteries, rushed along by its irresistible progress, heated and chilled by its ineffable fluctuations.

These books are also about peace and about war, and about eternal hate and eternal cruelty. They are about honor and justice and monstrous man creatures that live in the mountains and beautiful horses and racism and courage and cowardice. They are about a wise old man and a wise old woman who are small gods with wonderful powers. They are about magic and fate and fate's magic and the wisdom that age, if we're fortunate, will bring us.

I guess that's what I wanted to do, most of all—write a series of fantasy books that are connected by the endlessness of time and of love and the wonderful, terrible things that endless time and endless love teach us if we are lucky enough to be smart and smart enough to be lucky.
Books by Douglas Arvidson
The Eye of the Stallion Fantasy Series

These are the adventures of Sonoria, a slave girl and tamer of the wild stallion Spiritus, as she crosses the cusp into womanhood and becomes a small god and warrior. When she denies her love for the dark and dangerous Dag-gar, she risks destoying the Universe she is charged with protecting.
Brothers of the Fire Star -- A ForeWord Reviews 2012 Book of the Year Finalist

When the armed forces of Imperial Japan invade the island of Guam and the outset of World War II, two boys of different races and cultures escape in a small sailboat. Now they must learn to live together and master the secrets of the ancient Pacific navigators if they are survive.

In Praise of Brothers of the Fire Star:

This is a wonderful book, full of magic and majesty...His descriptions of events border on the lyrical, studded with gems of memorable observations. The story is so strong that I wonder at my audacity in offering my humble suggestions.

Linda Morehouse, Editor, WeBuildBooks.

I just can't put it down….just opened to browse, but find I'm to page 30 already….

this is fantastic…Sandy Y., Guam

As one of your #1 fans, I just wanted to tell you that I thought your book was fantastic! I devoured it! I ignored my family until I finished reading it. BAD MOM AND WIFE! Amy K., Guam

. Thanks for writing such a wonderful tale... Sue H., Guam